Camara's offices in Ethiopia are based in Addis in the Lideta area of the city, where we have 18 employees and offer internships and volunteer work to 40 students per annum, some of whom go on to work for us. 
The team is headed up by Biniam Yayehyirad and provides a full suite of services. In our local warehouse we receive and check the refurbished computers and install open-source operating systems as well as offline resources tailored to the local curriculum. Many schools have no internet connection, so this educational content is a vital component of our offering.
Camara Ethiopia is a not-for-profit social enterprise, locally managed and run.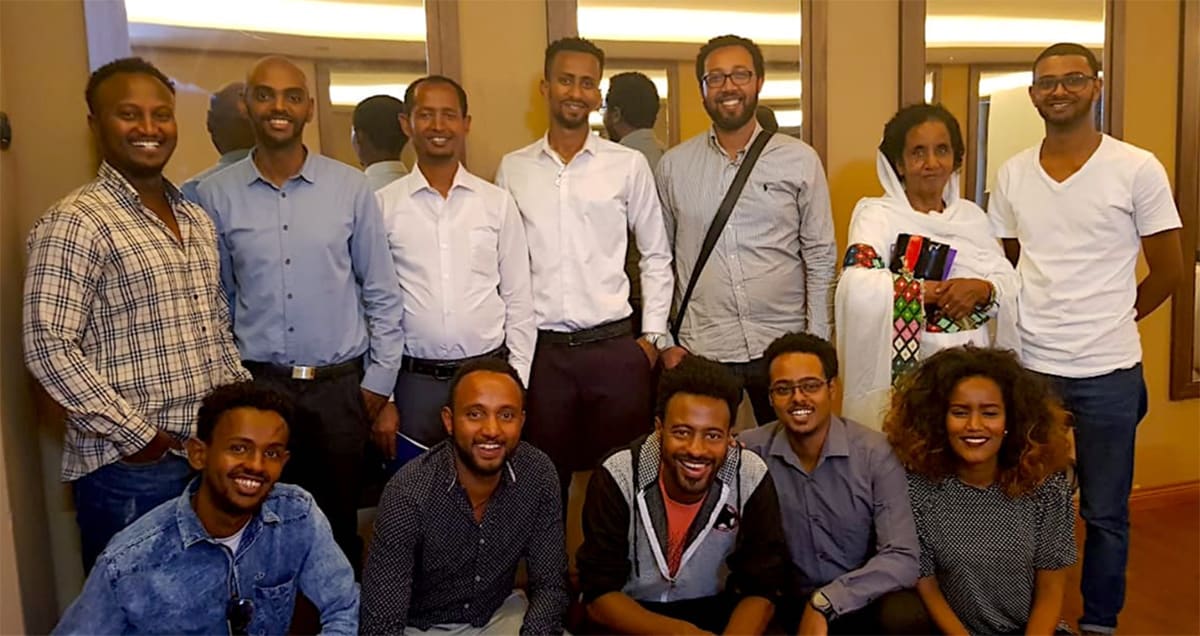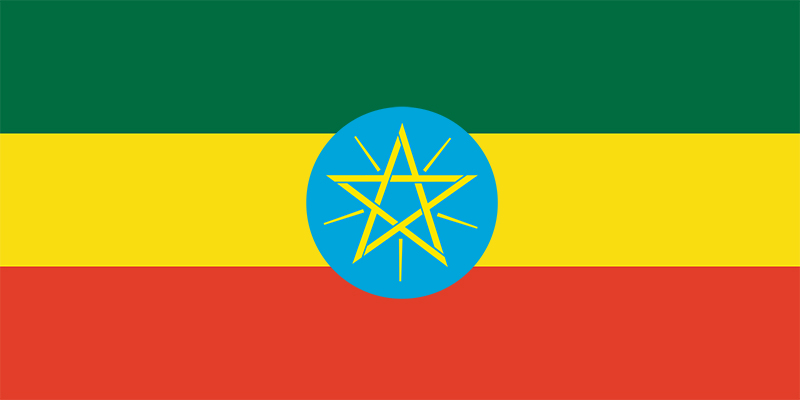 Camara Ethiopia works in partnership with the Government of Ethiopia to supply computers to schools and train teachers, often in rural and far-flung parts of the country. We identify schools in need of computer learning, help to create a secure and dust-free environment for a computer classroom, and install 35 to 40 computers. Our trainers visit the school and normally stay for a week, training anything from six to twenty teachers in the use of computers in the curriculum and giving advice on basic maintenance.
Our computers in Ethiopia run on the Ubuntu open-source operating system. They are pre-loaded with a range of educational software, from simple games to help new learners get the basics of using a computer through to specialised Camara Learning Studio resources for maths and science. All the computers are also loaded with an offline version of Wikipedia, creating an extraordinary learning resource for schools which often have no library books and limited internet connections. And most important of all, the computers are installed with Ministry of Education textbooks covering the entire school curriculum. Textbooks are in very short supply in many of Ethiopia's 40,000 schools, so this alone is a crucial resource.
We also offer a variety of other training and resources, including workshops for headteachers on educational leadership in the 21st century; monitoring and evaluation of existing projects; and responsible end-of-life recycling for computers.
Camara Education Ethiopia has successfully implemented a number of projects which focused on enabling schools to integrate ICT into education. We have worked with partners including Learning Equality, The Waterloo Foundation, Lenovo, CHK, Africa Code Week and Dell Technologies. Two of our major projects are outlined below.
Unleashing the power of ICT in Ethiopian Schools 2023-2028

Since 2011, Camara Education Ethiopia has worked in partnership with the Federal Ministry of Education (MoE) and has been committed to improving access to quality education through technology in disadvantaged communities in Ethiopia and to supporting the education sector in line with government strategies and policies.
Our latest five-year agreement incorporates the lessons learned from three previous federal-level projects and our Impact Project in Silte Zone (see below), with greater focus on learner outcomes. Through this new project and with the support of our key funding partner, Dell Technologies, Camara aims to: 
Equip 875 rural schools with 35,000 computers loaded with local curriculum-aligned content and innovative learning platforms
Train 9,450 educators

 

Impact 790,000 learners
In addition to offering the support provided in previous agreements for project schools, there have been some additions in this agreement based off our learning from the previous MOU including:
Additional refresher Training to be provided after one year
Scheduled Maintenance after one year
Improved computer specifications to meet current needs
Updated content from MoE and others
35-40 PCs per school, to handle large class sizes
Removal of Ewaste from these schools and those previously supported.
Project to Impact Learners' Performance in STEM Subjects in the Silte Zone
From May 2018 to October 2021, we compared the results of five secondary schools that had been provided with computers and training by Camara against schools which had not. The results of this long-term study of the effectiveness of our work in Ethiopia were truly impressive. 
In the impact schools studied, there was a dramatic increase in pass rates in Grade 10 Physics and Maths exams. The proportion of students who reported having good ICT skills increased from 13% to 84% over three academic years, while teachers' assessment of their own ICT skills also nearly doubled. Meanwhile, school dropout rates halved, against a slight increase in dropout rates in the control schools.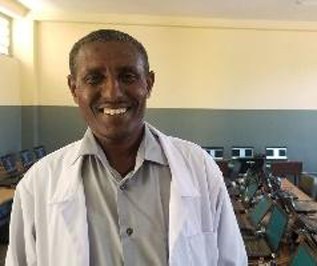 My name is Derbew Belay. I am head of the Mathematics department and educator here in Shimelis Habte secondary school. I have been using Camara Learning Studio (CLS) – installed on the Camara computers – since 2018. It's with full confidence that I say it is the best platform to teach learners because it enables students to have active learning which allows learners to engage in topics actively.
I usually prepare a lesson in advance and teach in the CLS classroom once a week. The platform enables me to evaluate students' performance which I can easily access. In addition, other educators like me cover the syllabus with the help of CLS. After using this platform, I can say that learners' performance has improved because it increases their motivation, they can easily get different kinds of educational content  aligned to the curriculum and also practice different exercises that are assigned by coaches. I recommend more educational content for learners and educators in various subjects that are aligned to our curriculum for better impact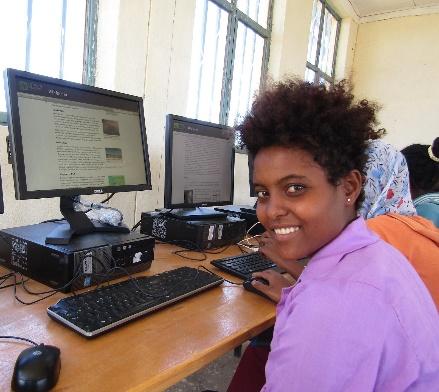 My name is Fethawi Yemaneh. I am 16 years old in grade 10. I am a refugee from Eritrea. There were days where I was unable to get a proper education. Not attending school was not a new thing in Eritrea. Because they couldn't afford to send all their children to school, my parents argued a lot about whom to send school between me and my brothers. Eventually they made their choice and sent me to school. I was expected to do well in my education as I was their only hope to make life better. Luckily Eritrea and Ethiopia made peace and we were allowed to move to Ethiopia, living in the refugee camp and continuing my education. Not only that, but using a computer – that was unimaginable for me. Now I use the computer very well. I can type and study my education on it.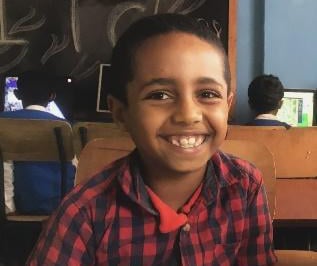 I may be different from my other friends because I have a physical disability, but I can do things they do, even type on a computer and manage the mouse – it's not that hard! Computer is something that I adore and love because it gives me so much information about my condition. I first read about it on Wikipedia and learn that I wasn't the only one with a condition like this and that it's OK and that I can do better in school. 
Beimnet Kassa, 8-year-old in grade 2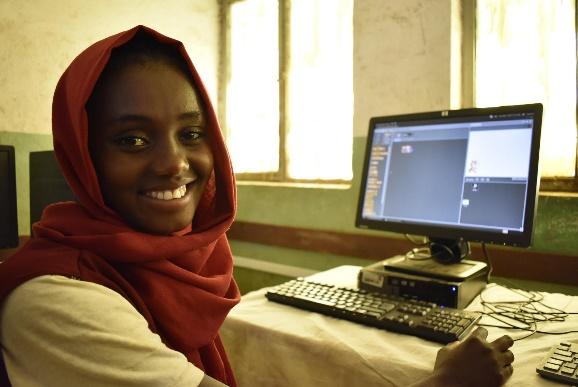 I am more than lucky to get this opportunity to explore and read a lot, as that is something I love doing. In my city, it's rare for girls to attend school and get an education, but now things are changing and we are even keeping up with the rest of the world. 
Letifa Abafita, 6th grader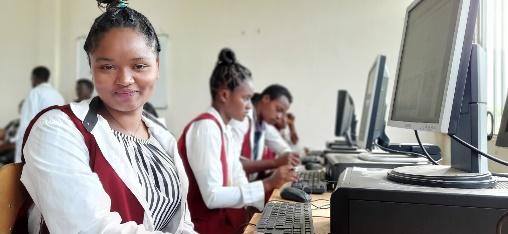 Hello, my name is Mintiwab Tegegn. I am 18 years old, and I am a Grade 11 student. I was born and raised here in Malleka village. I have two sisters and one brother. My father is a farmer and my mother is a housewife who sometimes helps my dad in farming with my sisters and brother.
I went to primary school here in Malleka. Because of a lack of educational resources like textbooks and teaching aids it is very hard, especially for girl students, to be able to make it through to higher education and become what they dream of.
I had never used a computer before until Camara computers came to our school last year. The presence of Camara computers helped my friends and me a lot. They contain textbooks in all subjects and grade levels. In addition, the plasma videos which we had never been able to use due to a transmission problem are also available on these computers. The simulations helped us a lot to cover topics that require a science laboratory. I can also practice national university entrance examinations on these computers.
I am happy and thankful to use Camara computers. I want to be an engineer in the future because I want to help my community by building roads and schools.
Camara Education Ethiopia,
Dama House, Office No. 304, behind Lideta condominium,
Lideta,
Addis Ababa
Phone: +251 (0)11869051
E-mail: ethiopia@camara.org