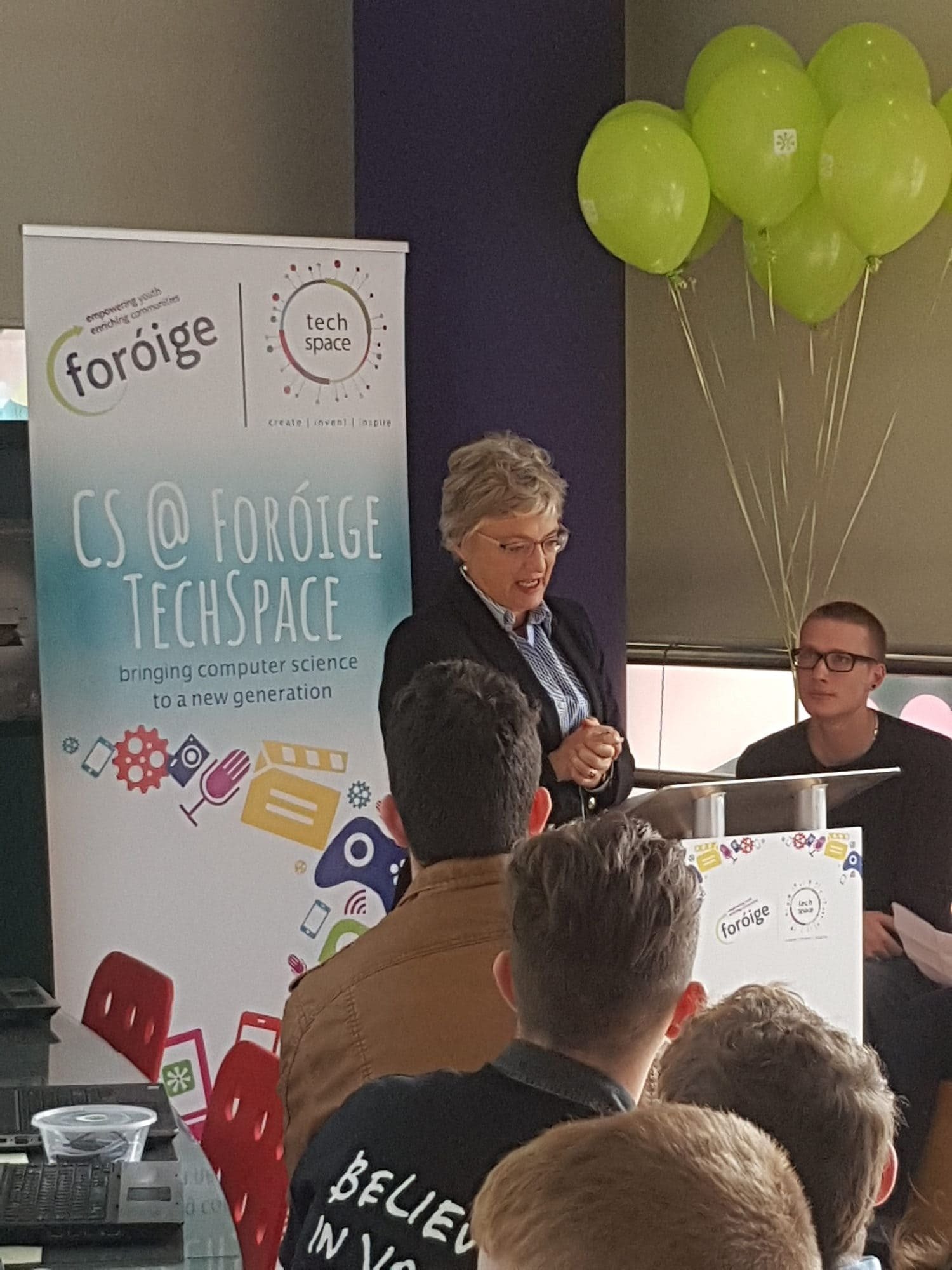 Training & Support to be offered to Youth Workers and Foróige senior managers
Camara Education Ireland which runs the national TechSpace network, has received a €530,000 grant from Google.org, the philanthropic arm of Google, to deliver computer science training, equipment, and ongoing support to over 300 youth workers and 48 senior managers in 60 Foróige youth groups around the country.
Camara Education's TechSpace program inspires young people to get creative with technology, and to gain new skills through 'learning by doing'.  With around 400,000 young people engaged with the youth sector every year, the partnership between Camara and Foróige is designed to have a major impact on how technology is used in youth groups  across the country. 60 new TechSpace sites – double the existing number – will be established in Foróige youth groups, including in Ringsend and Pearse Street, adjacent to Google's EMEA headquarters. The youth groups will also receive a total of 360 computers to support the project's implementation.
The funding from Google.org will enable Camara to develop and deliver training and support in 2019 to 300 youth workers and 48 senior managers to facilitate Computer Science activities through the TechSpace programme.   Youth workers will also be offered a bursary to complete a Level 8 National University of Ireland Certificate in 'Digital Creativity in Youth Settings' which will include a module in Computer Science education. This is a special purpose program run in partnership with Maynooth University, designed to significantly impact the adoption of technology in the youth sector.  Additionally the project will create a Computer Science in Youth Work Toolkit to be made available to youth workers nationwide, containing best practices, activity guidelines and resources.
Speaking at the launch of the programme today in Foróige The Big Picture Youth Club, Tallaght, Minister for Children and Youth Affairs Katherine Zappone said, "Opportunities for creativity are hugely beneficial to young people. It allows them to express themselves in fun and innovative ways. Creativity in technology has the additional benefit of allowing young people to develop skills in problem solving and critical analysis. I welcome this wonderful initiative and look forward to seeing the TechSpace programme grow across the country."
Shane Nolan, Director of New Business Sales for EMEA and Community Outreach Lead for Google Ireland said, "We are delighted to be supporting this innovative partnership between Camara and Foróige. There's a great buzz of excitement around Computer Science these days, with its introduction for the first time as a Leaving Certificate subject earlier this month, and potentially soon to be available at other stages in the school curriculum. More than ever, it is critical that all students have access to Computer Science education – both in and out of school. Computer science education is a pathway to innovation, to creativity and to exciting career opportunities in the 21st century, and Google believes that all students deserve these opportunities. "
Marianne Checkley, CEO of Camara Ireland, commented, "We are really proud to be part of this innovative project that expands the use of technology as a catalyst for youth development. Digital media and new technologies can be wonderful tools to ignite young people's curiosity, creativity and confidence. Used effectively they can enhance social awareness and contribute to an ability to engage as active citizens. They can also help to build young people's sense of agency and enable them to develop new knowledge and skills, and provide platforms for their voices to be heard. "
Seán Campbell, CEO of Foróige, said "This exciting initiative will make it possible for over 3,000 young people across Ireland to develop a suite of computer science skills that will set them on the pathway for success in the 21st Century. It will challenge young people to harness their innate interest in technology for the betterment of their own lives, their communities and society. In many ways, computer science has become as important as reading, writing and maths, making this partnership between Camara Ireland, Foróige and Google hugely important."