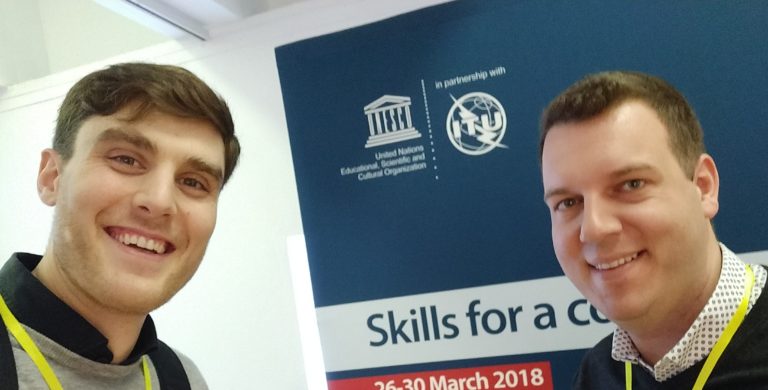 The last week in March was a busy one in Camara Education with Steven, our Head of Income and Partnerships, and Mathieu, our Head of Education, travelling to UNESCO Mobile Learning Week in Paris.
The conference, held in UNESCO headquarters, is an opportunity for people from all over the world to come together and discuss all things ICT in Education in the developing world.
A huge number of nationalities were represented, with everyone from teachers from the Beijing Royal School, to the Kenyan Minister of ICT!
On the Monday morning, alongside with the Director of ICT for the Government of Indonesia, the Senior Vice-President of Weidong Cloud Education Group, the Vice Rector for continuing education of Peoples' Friendship University of Russia and representatives from UNESCO Institute for Information Technologies in Education, Mathieu participated in the workshop called Teacher Skills in a connected world: ICT competency for the transformation of teaching and learning. The main goal of this Workshop was to share innovative pedagogical approaches and teachers' management and professional development methods based on ICT use.
The Workshop has featured examples of responses to the new ICT-based educational environment and has offered the opportunity to interrogate the models of emerging approaches and practices for teaching and learning from the network of the UNESCO International Teacher Task Force for Education 2030. The workshop has collected feedback on the potential for scaling up the examples presented and their replicability to other contexts. The result of this workshop will be used by the UNESCO Task Force Working Group to pursue its action towards the increase of qualified teachers and the improvement of teaching for better learning outcomes.
Mathieu presented to a packed room on the Camara Learning Academy, our new online teacher training platform. Since its launch in 2016 we have already trained over 1,000 teachers in courses varying from the 'Basics of ICT' to 'Leadership and change for ICT implementation in a school'. Participants to the workshop highlighted the relevance of Camara's initiatives to overcome the barriers faced by teachers and also pinpointed that Camara's approach (Hardware, Software, Warmware) is one if not the only way such intervention can be successful.
The conference was also a really good chance to sit down with some of our existing partners and brainstorm for future projects. The team from Learning Equality (LE) were over, leading to lots of conversations about exciting potential new projects similar to the Maths component of the ZamSTEM project we are delivering in Zambia. Using 'Kolibri' LE's online content platform we will be working to improve numeracy outcomes in 10 Zambian schools as part of a larger Irish Aid funded project. The overall project will reach over 75 schools and training more than 400 teachers, improving computer literacy skills and numeracy skills for Zambian students.
Exciting times ahead!