April 22nd marks Earth Day, promoting sustainability as the path to prosperity for humanity and business alike. E-waste is a huge global problem – more than 53 million metric tons of e-waste was produced in 2019 alone, according to Global E-waste Monitor 2020. This weighs more than the total number of commercial aircraft ever built. Businesses need to have policies to address this.
For most organisations and IT managers, IT Asset Disposition is a necessary evil. Something that, at best, happens out of sight in the background. Camara Education offers the chance to turn that around, converting a tedious necessity into a positive contribution to the world and making ITAD a vital part of a corporate responsibility policy.
We believe that prolonging the life of computer equipment through refurbishment and reuse is a vital step towards sustainability and protecting the natural environment. We collect surplus IT equipment from businesses and process it to the highest international environmental and data-security standards. We also endeavour to ensure that all our computers in Africa are appropriately recycled at end of life.
If data storage devices are not disposed of appropriately when they are decommissioned, millions of perfectly usable devices and harvestable components can make their way into landfill – and put data at risk. Our aim is to avoid waste altogether by re-using IT equipment that organisations are disposing of. However, there are times when equipment becomes faulty beyond economical repair. In these cases our partners worldwide follow best practice when disposing of waste and recycle whenever possible with an aim to maintain a zero-landfill policy. Our ITAD partners operate Environmental Management Systems that have been certificated to ISO 14001.
Items that cannot be economically repaired or are determined to have no commercial value are declared Waste Electrical and Electronic Equipment (WEEE). WEEE processing involves segregating items into different waste streams such as circuit boards, processors, memory, hard disk drives, cables, computer shells etc.
In the UK, the treated waste streams are sent to an authorised recycling company for further treatment and to be made available as raw material. The equipment undergoes several refining processes where the items are shredded and destroyed beyond any thoughts of repair, ensuring data is irretrievable whatever the sophistication of recovery equipment. The metallic, plastic and ferrous particles are separated and refined until ready for onward processing as raw materials such as copper, steel, aluminium, precious metals, plastic etc. The dust and particles created during the shredding and refinement process are extracted from the air and compacted to produce dust cakes. These can be used as a fuel source.
In Africa, our hubs strive to become innovative leaders in e-waste management locally. We aim to create a closed loop system for all e-waste generated through our projects, so our contracts with schools provide that equipment is returned to us and we have partnered with licensed local partners to ensure proper collection, disposal and recycling of all e-waste and end-of-life equipment from schools.
ETHIOPIA: E-WASTE MANAGEMENT IN PRACTICE
More than 1,600,000 students have benefited from Camara Education Ethiopia's 12-year effort to modernise the education system with technology, and more than 60,000 computers have been installed. While carrying out this life-altering activity, Camara Education Ethiopia also makes an effort to stay in touch with schools supported in previous years so that the outdated computers can be replaced and the old ones recycled in an environmentally acceptable manner. Camara Education Ethiopia primarily collaborates with Hefli on e-waste recycling and management on this e-waste initiative. Hefli is certified by the Ethiopian Environmental protection Agency.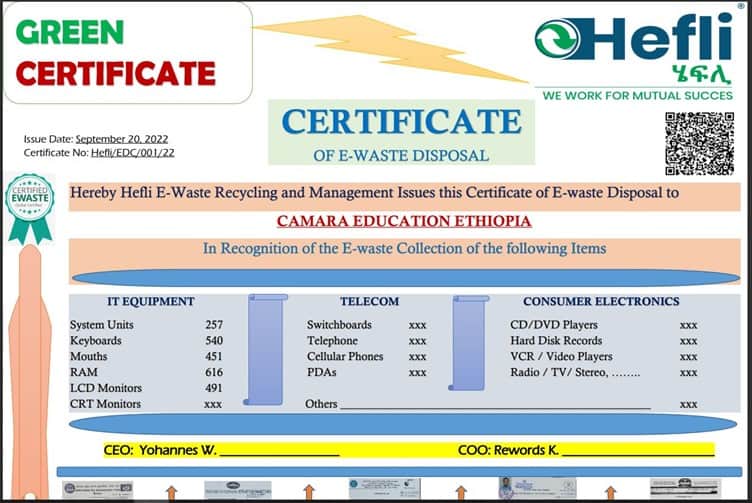 St. John Baptist, a school we first supported in 2009,  recently gave 13 old computers back to Camara Education Ethiopia. We followed their journey to Hefli:
The computers are collected and transported to Hefli.
At the recycling facility, the computers are disassembled and any working components, such as drives, set aside for reuse. Cabling, metals such as copper and other items can also be reused.
Set aside for processing.