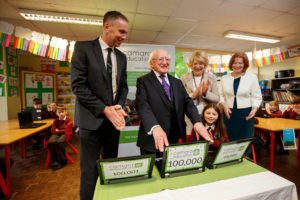 Camara Education was abuzz with excitement this week, when President Michael D Higgins and his wife Sabina paid a visit, to preside over the presentation of Camara's 100,000th computer to St. Patrick's National School, Chapelizod, Dublin.
President Higgins said: "I just think the work of Camara is so important. It is a form of literacy really, that every child would have access to a computer. One of the most important moral issues of our time is the forms in which science and technology will impact our lives, and the importance in delivering advances in science and technology and intelligence in a way that the largest numbers of people will have their lives enhanced rather than endangered. We're standing here today and celebrating a very important event in Camara's story.
Addressing the children directly he said "You children are part of that story. You will able to say that 'We were there when the 100,000th computer was in fact put into action'."
The President also had some words of advice to the children on cyber-bullying.
"I have one special point – never, ever, allow anyone to be excluded in your group and never ever allow new technology to be used to bully somebody or to make somebody who is already perhaps marginal, even more marginalised. "In your generation people have to be careful about how technology is used. So it should be used as a piece of excitement and wonderment and to enjoy it. I so wish you all very, very well as you enjoy these new instruments."
And to Camara, the President said: "You're creating hope. You're making a hopeful future. I so appreciate what you've achieved."
In a final address, Camara CEO John Fitzsimmons also asked something of the children assembled: "I do ask one thing of you… that every Camara computer that comes into the school, I want it used everyday and every hour and do some incredible work with it every time. Can you do that?
There were resounding shouts of "Yes!".
John went on to draw attention to another important reason the President was visiting the school, to launch Camara's ReuseIT campaign for Ethiopia.
"Today as well as our 100,000th computer, we have a very significant programme in Ethiopia. We are providing 30,000 computers to ethiopian schools over three years and we're halfway there. But we need loads more computers.
"We have half a million kids like you guys here today waiting in Ethiopian schools with no computers and we have to get them what they need, so that they can do the amazing work that we saw in the classroom today.
"So I'm asking everybody in the public, businesses, people – get them to us, because we have all these students that really need this life opportunity. Also we have hit 2 million kids to date in the last 12 years, but between now and 2020 we want to turn 2 million into 5 million. The need is so great, we need to address that need. So we need all your help in achieving that.
"Finally, I'd just like to thank, sincerely and from my heart our special guest today. We are very fortunate to have the President as a Patron of Camara. He is what we would call a kindred spirit. He believes in the power of technology – he believes that poverty in Africa should not be there in the 21st century and he has seen today what can happen when you put resources with really talented kids."